Richard Bent FWCB of Devon, is an Eminent Master Blacksmith working at Red Anvil Forge, at Halwell near Totnes.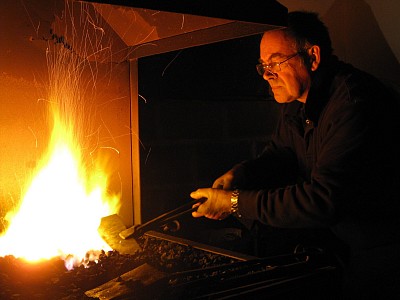 Richard Bent at work at Red Anvil Forge
Who and where?
In the wonderful countryside of South Devon, Richard Bent FWCB (Silver Medal holder and Fellow of the Worshipful Company of Blacksmiths), makes hot forged items made using traditional blacksmithing craft techniques (by hammer and hand), individually designed for house and garden.
What is made at Red Anvil Forge?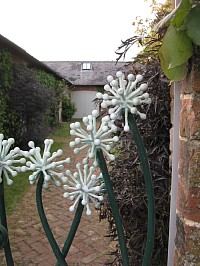 Detail from a garden gate - Leeks in flower
Red Anvil Forge is about excellence.
The commissions which are designed and made in Devon, at Red Anvil Forge, reflect the needs of modern day British society.  
The accent is on quality and suitability of purpose.  Great care is taken to create designs that reflect the built environment, with the location of the work being of importance when designing.
Strength, visually and physically, together with maintenance as a factor, are all considerations highly valued at Red Anvil Forge.
Commissions generally undertaken are varied in size, subject and content.  Recent commissions completed at Red Anvil Forge include lighting, a feature balcony, gates, fireside components and garden sculpture.
The present work in progress includes a circular stair, gates and railings.
Images of completed commissions can be accessed through Instagram, (@redanvilforge) and Flickr at Richard Bent.
Require a commission?  Contact me through this page
Where in Devon?
Red Anvil Forge is located in a spacious, modern building, at Bickleigh Farm, Halwell, Totnes, Devon, TQ9 7HZ.  Easily reached by car from the main A381 Totnes to Kingsbridge road.
For a visit, contact by 'phone is advised, please call 0789 9797 699 to arrange a day and time.
Contact Richard direct about blacksmithing courses, please go to Red Anvil School of Blacksmithing web pages or contact us by using redanvilschoolofblacksmithing@gmail.com

Contact for blacksmithing projects and commissions at Red Anvil Forge please email Richard at richardbentblacksmith@gmail.com using Email Us facility below.
Thank you